Troubling consent: Pain and pressure in labour and childbirth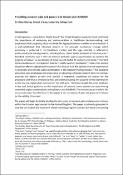 Files
Abstract
This is the first book to unpack the legal and ethical issues surrounding unauthorised intimate examinations during labour. The book uses feminist, socio-legal and philosophical tools to explore the issues of power, vulnerability and autonomy. The collection challenges the perception that the law adequately addresses different manifestations of unauthorised medical touch through the lens of women's experiences of unauthorised vaginal examinations during labour.
Keywords
Consent
,
Capacity
,
Childbirth
,
Unwanted vaginal examinations
Citation
Murray, C. (2020) 'Troubling consent: Pain and pressure in labour and childbirth', in Pickles, C. and Herring, J. (eds.) Women's Birthing Bodies: Unauthorised Intimate Examinations, Power and Vulnerability. Oxford: Hart Publishing, pp. 155–170. doi: 10.5040/9781509937608.ch-011
Copyright
© 2020, the Author. Published by Bloomsbury Publishing Inc. All rights reserved.