Efficient building management with IP-based wireless sensor network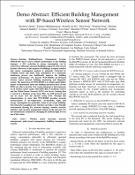 Files
Abstract
Existing Building/Energy Management Systems (BMS/EMS) fail to convey holistic performance to the building manager. A 20% reduction in energy consumption can be achieved by efficiently operated buildings compared with current practice. However, in the majority of buildings, occupant comfort and energy consumption analysis is primarily restricted by available sensor and meter data. Installation of a continuous monitoring process can significantly improve the building systems' performance. We present WSN-BMDS, an IP-based wireless sensor network building monitoring and diagnostic system. The main focus of WSN-BMDS is to obtain much higher degree of information about the building operation then current BMSs are able to provide. Our system integrates a heterogeneous set of wireless sensor nodes with IEEE 802.11 backbone routers and the Global Sensor Network (GSN) web server. Sensing data is stored in a database at the back office via UDP protocol and can be access over the Internet using GSN. Through this demonstration, we show that WSN-BMDS provides accurate measurements of air-temperature, air-humidity, light, and energy consumption for particular rooms in our target building. Our interactive graphical user interface provides a user-friendly environment showing live network topology, monitor network statistics, and run-time management actions on the network. We also demonstrate actuation by changing the artificial light level in one of the rooms.
Keywords
Building management systems
,
Environmental management systems
,
Network management
,
Policy-based management
Citation
Spinar, R., Muthukumaran, P., de Paz, R., Pesch, D., Song, W., Chaudhry, S.A., Sreenan, C.J., Jafer, E., O'Flynn, B., O'Donnell, J., Costa, A., Keane, M., 2008. Efficient building management with IP-based wireless sensor network. In: EWSN 2009, 6th European Conference on Wireless Sensor Networks. Cork, Ireland 11-13 February 2009.
Copyright
© Rostisalv Spinar et al, 2009