The profitability of momentum trading strategies in the Irish equity market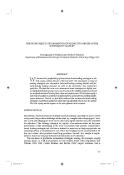 Files
Abstract
We examine the profitability of momentum-based trading strategies in the Irish equity market between 1988 and 2007. We investigate a range of trading strategies over alternative backward-looking ranking periods and forward-looking holding horizons as well as for alternative size momentum portfolios. We find that returns to momentum-based strategies are highly non-normally distributed, giving rise to concern about the validity of inferences based on standard statistical tests of their abnormal performance. We therefore apply a bootstrap procedure to construct nonparametric p-values for the portfolio performance measures. Overall, we find little evidence that momentum-based trading strategies would have yielded an abnormal risk-adjusted return over the period. The Irish equity market appears to be quite efficient in this respect.
Keywords
Stock exchanges
,
Securities trading
,
Cost centres
,
Portfolio performance
Citation
O' Sullivan, F; O' Sullivan, N; (2010) 'The Profitability of Momentum Trading Strategies in the Irish Equity Market'. Irish Accounting Review, 17 (1):55-68.