Effectuation and its implications for socio-technical design science research in information systems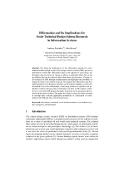 Files
Abstract
We study the implications of the effectuation concept for socio-technical artifact design as part of the design science research (DSR) process in information systems (IS). Effectuation logic is the opposite of causal logic. Ef-fectuation does not focus on causes to achieve a particular effect, but on the possibilities that can be achieved with extant means and resources. Viewing so-cio-technical IS DSR through an effectuation lens highlights the possibility to design the future even without set goals. We suggest that effectuation may be a useful perspective for design in dynamic social contexts leading to a more dif-ferentiated view on the instantiation of mid-range artifacts for specific local ap-plication contexts. Design science researchers can draw on this paper's conclu-sions to view their DSR projects through a fresh lens and to reexamine their re-search design and execution. The paper also offers avenues for future research to develop more concrete application possibilities of effectuation in socio-technical IS DSR and, thus, enrich the discourse.
Keywords
Effectuation
,
Causation
,
Socio-technical artifact
,
Socio-technical system
,
Emergence
,
Transformation
Citation
DRECHSLER, A. & HEVNER, A. 2015. Effectuation and its implications for socio-technical design science research in information systems. In: DONNELLAN, B., GLEASURE, R., HELFERT, M., KENNEALLY, J., ROTHENBERGER, M., CHIARINI TREMBLAY, M., VANDERMEER, D. & WINTER, R. (eds.) At the Vanguard of Design Science: First Impressions and Early Findings from Ongoing Research Research-in-Progress Papers and Poster Presentations from the 10th International Conference, DESRIST 2015. Dublin, Ireland, 20-22 May. pp. 77-84
Copyright
©2015, The Author(s).