Design principles for an enterprise systems chartering method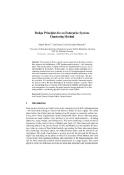 Files
Abstract
Our research follows a design science approach to develop a method that supports the initialization of ES implementation projects – the chartering phase. This project phase is highly relevant for implementation success, but is understudied in IS research. In this paper, we derive design principles for a chartering method based on a systematic review of ES implementation literature and semi-structured expert interviews. Our analysis identifies differences in the importance of certain success factors depending on the system type. The proposed design principles are built on these factors and are linked to chartering key activities. We specifically consider system-type-specific chartering aspects for process-centric Business Intelligence & Analytics (BI&A) systems, which are an emerging class of systems at the intersection of BI&A and business process management. In summary, this paper proposes design principles for a chartering method – considering specifics of process-centric BI&A.
Keywords
Enterprise system implementation
,
Chartering phase
,
Critical success factors
,
Process-centric BI&A
,
Design science
Citation
BERNER, M., GANSEN, J., MAEDCHE, A. 2015. Design principles for an enterprise systems chartering method. In: DONNELLAN, B., GLEASURE, R., HELFERT, M., KENNEALLY, J., ROTHENBERGER, M., CHIARINI TREMBLAY, M., VANDERMEER, D. & WINTER, R. (eds.) At the Vanguard of Design Science: First Impressions and Early Findings from Ongoing Research Research-in-Progress Papers and Poster Presentations from the 10th International Conference, DESRIST 2015. Dublin, Ireland, 20-22 May. pp. 1-8.
Copyright
©2015, The Author(s).