The role of the Comes Lucillianus during Julian's Persian expedition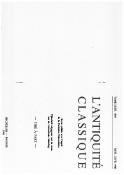 Abstract
It is argued that Lucillianus was comes of the Lanciarii and Mattiarii during Julian's Persian expedition in AD363, and that he was dismissed from his post when he refused to lead his troops in a frontal assault against a fortified Persian position on the opposite bank of the Tigris (Lib. Or. 18.250).
Keywords
Lucillianus
,
Julian, Roman Emperor
,
Persian expedition
,
Late Roman history
Citation
Woods, D. (1998) 'The Role of the Comes Lucillianus during Julian's Persian Expedition'. L'Antiquité Classique, 67 (1):243-248.