Hearing family carers: 'Going from bad to worse'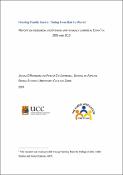 Files
Publisher
School of Applied Social Studies, University College Cork
Abstract
This report provides an update to research conducted in 2008 on the experiences and access to supports available to family carers in Cork and published as Hearing Family Carers (O'Riordan, O'hAdhmaill and Duggan 2010). It includes additional research carried out in 2013 with some of the original participants who partook in the earlier research. Given the more recent changes in supports in the context of austerity measures it was considered necessary to consult carers again with reference to their more current experiences, supports and the challenges they face in their informal caring roles.
Keywords
Family caring in Ireland
,
Formal support services
,
Community-based support services
,
Carers
,
Caring
,
Social Care
,
Austerity
Citation
O'RIORDAN, J. & Ó HADHMAILL, F. 2014. Hearing family carers: 'Going from bad to worse'. Cork: School of Applied Social Studies, University College Cork. The Carers Association.
Copyright
© 2014, the Authors.