Biomimetics in design-oriented information systems research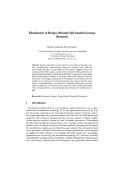 Files
Abstract
Modern information systems (ISs) are becoming increasingly complex. Simultaneously, organizational changes are occurring more often and more rapidly. Therefore, emergent behavior and organic adaptivity are key advantages of ISs. In this paper, a design science research (DSR) question for design-oriented information systems research (DISR) is proposed: Can the application of biomimetic principles to IS design result in the creation of value by innovation? Accordingly, the properties of biological IS are analyzed, and these insights are crystallized into a theoretical framework to address the three major aspects of biomimetic ISs: user experience, information processing, and management cybernetics. On this basis, the research question is elaborated together with a starting point for a research methodology in biomimetic information systems.
Keywords
Information systems
,
Design science research
,
Biomimetics
Citation
KAUFMANN, M. A.. & PORTMANN, E. 2015. Biomimetics in design-oriented information systems research. In: DONNELLAN, B., GLEASURE, R., HELFERT, M., KENNEALLY, J., ROTHENBERGER, M., CHIARINI TREMBLAY, M., VANDERMEER, D. & WINTER, R. (eds.) At the Vanguard of Design Science: First Impressions and Early Findings from Ongoing Research Research-in-Progress Papers and Poster Presentations from the 10th International Conference, DESRIST 2015. Dublin, Ireland, 20-22 May. pp. 53-60.
Copyright
©2015, The Author(s).