Nutrition measures and limits: the dominance of the USDA's Food Insecurity and Hunger Module and its adaptations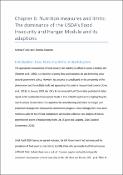 Files
Abstract
The Sustainable Development Goals call for an end to poverty (No Poverty) in all its forms everywhere to end hunger, achieve food security and improved nutrition (Zero Hunger). Food insecurity (food poverty) – the inability to access affordable food, or the worry that you may be unable to do so – and hunger are of increasing concern in developed countries. There are various indicators used to measure the prevalence and severity of food insecurity internationally and this paper compares and contrasts three of these: EU Survey on Income and Living Conditions (SILC) food deprivation measures, the FAO Food Insecurity Experience Scale Survey Module, and the USDA Household Food Security Survey Module (HFSSM). We conclude with a discussion of the HFSSM and its application and dominance in the UK's Family Resources Survey and Food Standards Agency's Food and You (2) survey to quantify the existence of hunger and associated anxiety about affording and accessing food, Finally we discuss opportunities to broaden further its applicability for UK household food security measurement.
Keywords
Sustainable Development Goals
,
Poverty
,
Food insecurity
,
Food poverty
,
UK household food security measurement
Citation
Furey, S. and Beacom, E. (2023) 'Nutrition measures and limits: the dominance of the USDA's Food Insecurity and Hunger Module and its adaptations', in Caraher, M., Coveney, J. and Chopra, M. (eds.) Handbook of Food Security and Society. Cheltenham: Edward Elgar Publishing, pp. 84-97. doi: 10.4337/9781800378445.00019
Copyright
© 2023, the Editors. All rights reserved. Published by Edward Elgar Publishing Limited. This is a draft chapter. The final version is available in Handbook of Food Security and Society edited by Martin Caraher, John Coveney and Mickey Chopra, published in 2023, Edward Elgar Publishing Ltd: http://dx.doi.org/https://doi.org/10.4337/9781800378445. The material cannot be used for any other purpose without further permission of the publisher, and is for private use only.