Analysing evolutionary pathways for the European power system resulting from climate mitigation policy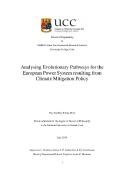 Files
Abstract
The need for robust analysis of decarbonisation pathways has never been as high or as demanding. Globally, climate action is picking up pace. Yet, its momentum may hinge on informed policy decisions being made in a timely manner. Energy research must provide the analysis for these informed decisions. However, the scientific field lags others such as medicine or economics in moving to more open and reproducible science. The fact that this research is directly relevant to the urgent policy challenge of rapid energy system decarbonisation makes reproducibility of results particularly important. Aligning with this belief, all models and datasets used as part of this thesis are made openly available and accessible. The central focus of this thesis is to understand the effects of climate mitigation policy on Europe's power sector. The approach applied in this thesis looks back in time as well as forward to capture the learnings from previous marketplace evolutions that may help avoid similar pitfalls in the future. Coupled with insights from a power system already having to endure complete market transformation while attempting to remain fit-for-purpose, this knowledge is the basis for analysing proposed decarbonisation pathways for Europe in terms of policy, regulation, economics and system operation perspectives. Today, policymakers and society are confronted by important decisions regarding the balance between cost equality, economic growth, energy security and climate action on a global scale. The key contributions of this thesis to that decision making process are new insights into the effects of policy decisions on cost inequalities stemmed from cross-border subsidisation of renewable energies, the risk exposures associated with over-reliance on technological development/readiness and finally a better, more well-rounded understanding of power system operational concerns in this brave, new decarbonised world.
Keywords
European power system modelling
,
Climate mitigation policy
Citation
Gaffney, F. 2019. Analysing evolutionary pathways for the European power system resulting from climate mitigation policy. PhD Thesis, University College Cork.