Feasibility of combined wind-wave energy platforms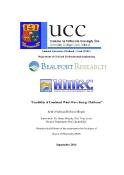 Files
Authors
O'Sullivan, Keith Patrick
Abstract
The European Union has set out an ambitious 20% target for renewable energy use by 2020. It is expected that this will be met mainly by wind energy. Looking towards 2050, reductions in greenhouse gas emissions of 80-95% are to be sought. Given the issues securing this target in the transport and agriculture sectors, it may only be possible to achieve this target if the power sector is carbon neutral well in advance of 2050. This has permitted the vast expansion of offshore renewables, wind, wave and tidal energy. Offshore wind has undergone rapid development in recent years however faces significant challenges up to 2020 to ensure commercial viability without the need for government subsidies. Wave energy is still in the very early stages of development so as yet there has been no commercial roll out. As both of these technologies are to face similar challenges in ensuring they are a viable alternative power generation method to fossil fuels, capitalising on the synergies is potentially a significant cost saving initiative. The advent of hybrid solutions in a variety of configurations is the subject of this thesis. A singular wind-wave energy platform embodies all the attributes of a hybrid system, including sharing space, transmission infrastructure, O&M activities and a platform/foundation. This configuration is the subject of this thesis, and it is found that an OWC Array platform with multi-MegaWatt wind turbines is a technically feasible, and potentially an economically feasible solution in the long term. Methods of design and analysis adopted in this thesis include numerical and physical modelling of power performance, structural analysis, fabrication cost modelling, simplified project economic modelling and time domain reliability modelling of a 210MW hybrid farm. The application of these design and analysis methods has resulted in a hybrid solution capable of producing energy at a cost between €0.22/kWh and €0.31/kWh depending on the source of funding for the project. Further optimisation through detailed design is expected to lower this further. This thesis develops new and existing methods of design and analysis of wind and wave energy devices. This streamlines the process of early stage development, while adhering to the widely adopted Concept Development Protocol, to develop a technically and economically feasible, combined wind-wave energy hybrid solution.
Keywords
Offshore wind
,
Hybrid platforms
,
Numerical power performance
,
Structural design
,
Tank testing
,
Life cycle cost analysis
,
Wave energy
Citation
O'Sullivan, K. 2014. Feasibility of combined wind-wave energy platforms. PhD Thesis, University College Cork.