Test recommendations and gap analysis report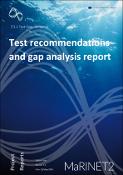 Files
Abstract
This report is a review of published standards and guidelines for testing of marine renewable energy devices. Recommendations are given on which documents address particular aspects of testing. Additionally, a gap analysis has been undertaken to identify areas not well covered by existing documents. This is based on the review of published documents, from responses to a questionnaire sent out to each test facility involved in the MaRINET2 programme, and the experience of project partners contributing to this report. Marine renewable energy is a very diverse topic, with a wide range of technology types and configurations, including wave energy converters (WECs), tidal energy converters (TECs), and floating offshore wind turbines (FOWTs). These devices also span the full range of technology development, from early concept to commercial deployment. The commonality between these is that all are designed to extract renewable energy from the marine environment, and are therefore subject to the harsh conditions this entails. One of the challenges in producing guidance for marine renewable energy testing is the shear diversity of device concepts. A three level device classification template was developed for wave and tidal energy converters as part of the EquiMar protocols [1]. This categorises devices based on the general form, the power take-off subsystem, plus the reaction and control subsystems. For each level, there are a number of standardised descriptors, giving many thousands of possible device concept permutations. Technology reviews, such as [2], [3], identify more than 100 wave and tidal energy concepts in various stages of development. Marine renewable energy is still an emerging technology. As such, there is still a lack of mature standards and guidance for the development and testing of these devices. This report aims to summarise relevant published guidance and standards, and highlight any gaps or areas for further development.
Keywords
Marine renewable energy devices
,
Testing
,
Wave energy converter (WEC)
,
Tidal energy converter (TEC)
,
Floating offshore wind turbine (FOWT)
Citation
Noble, D., Draycott, S., Ordonez Sanchez, S., Porter, K., Johnstone, C., Finch, S., Judge, F., Desmond, C., Santos Varela. B., Lopez Mendia, J., Darbinyan, D., Khalid, F., Johanning, L., Le Boulluec, M. and Schaap, A. (2018) Test recommendations and gap analysis report, MaRINET2, D2.1 (123pp).
Copyright
© 2018, the Authors. The content of this publication reflects the views of the Authors and not necessarily those of the European Union. No warranty of any kind is made in regard to this material.