Round robin findings and recommendations.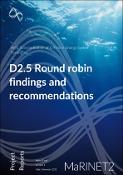 Files
Abstract
EU H2020 MaRINET2 project aims to improve the quality, robustness and accuracy of physical modelling and testing practices implemented by test infrastructures. A key element of the project is a round robin testing program where generic wave, floating wind, and tidal devices are tested in different infrastructures in order to assess the impact the facility itself has on the experimental results. Innovative laboratory testing was also conducted for crosscutting applications through this research initiative. MaRINET2 builds on the EU FP7 MaRINET project which concluded in 2015. A tidal round robin campaign was conducted in the MaRINET project [1] but efforts to conduct a meaningful wave round robin were unsuccessful. Therefore, in MaRINET2, four round robin testing campaigns were conducted involving tidal, wave, floating wind and cross-cutting devices. The tidal round robin used the same device as in the MARINET project, whereas the wave campaign involved the design and build of new generic devices. In the wind round robin, the device was chosen based on an open-access model previously designed as part of the INNWIND.EU project. The cross-cutting campaign involved several different activities, including mooring line testing, tidal blade testing, and subsea umbilical testing. All round robin devices were successfully tested in several facilities around Europe. This report summarises each test campaign. The objectives of each test programme are explained, the models are described, and the results are presented and analysed. Learnings from each campaign and recommendations for future round robin activities are discussed. Data from the round robin campaigns is open-access and available through the MaRINET2 e-infrastructure. The e-infrastructure is accessible via the link on the MaRINET2 website, or through the OpenAIRE Explore database (https://explore.openaire.eu).
Keywords
MaRINET2
,
Wave
,
Infrastructure
,
Floating wind
,
Tidal devices
,
Wave round robin
,
Offshore energy system testing
,
Research
,
Laboratory testing
,
Crosscutting
Citation
Judge, F., Gueydon, S., Salvatore, F., Johnstone, C., Ohana, J., Thiebaut, F., Bouscasse, B., Davey, T., Hann, M., Le Boulluec, M., Khalid, F., Finnegan, W., Davies, P., Goggins, J. (2021)Round robin findings and recommendations, MaRINET2, D2.5 (117pp).
Copyright
© 2021, the Authors. The content of this publication reflects the views of the Authors and not necessarily those of the European Union. No warranty of any kind is made in regard to this material.