Context-aware real-time assistant architecture for pervasive healthcare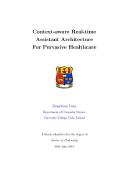 Files
Abstract
The aging population in many countries brings into focus rising healthcare costs and pressure on conventional healthcare services. Pervasive healthcare has emerged as a viable solution capable of providing a technology-driven approach to alleviate such problems by allowing healthcare to move from the hospital-centred care to self-care, mobile care, and at-home care. The state-of-the-art studies in this field, however, lack a systematic approach for providing comprehensive pervasive healthcare solutions from data collection to data interpretation and from data analysis to data delivery. In this thesis we introduce a Context-aware Real-time Assistant (CARA) architecture that integrates novel approaches with state-of-the-art technology solutions to provide a full-scale pervasive healthcare solution with the emphasis on context awareness to help maintaining the well-being of elderly people. CARA collects information about and around the individual in a home environment, and enables accurately recognition and continuously monitoring activities of daily living. It employs an innovative reasoning engine to provide accurate real-time interpretation of the context and current situation assessment. Being mindful of the use of the system for sensitive personal applications, CARA includes several mechanisms to make the sophisticated intelligent components as transparent and accountable as possible, it also includes a novel cloud-based component for more effective data analysis. To deliver the automated real-time services, CARA supports interactive video and medical sensor based remote consultation. Our proposal has been validated in three application domains that are rich in pervasive contexts and real-time scenarios: (i) Mobile-based Activity Recognition, (ii) Intelligent Healthcare Decision Support Systems and (iii) Home-based Remote Monitoring Systems.
Keywords
CARA
,
Context-awareness
,
WSN
,
Pervasive healthcare
,
Activity recognition
,
Reasoning system
,
Remote monitoring
Citation
Yuan, B. 2014. Context-aware real-time assistant architecture for pervasive healthcare. PhD Thesis, University College Cork.