Explorations in a meaning making system: Kerry as an entrepreneurial platform and the equine sector as a cluster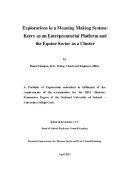 Files
Abstract
This Portfolio is about the changes that can be supported and achieved through transformational education that impacts on personal, professional and organisational levels. Having lived through an era of tremendous change over the second half of the twentieth century and into the twenty-first the author has a great drawing board to contemplate in the context of professional career experience as an engineer. The ability to engage in 'subject-object' separation is the means by which Kegan (1994, 2009) explains that transformation takes place and the Essays in this Portfolio aim to support and bring about such change. Exploration of aspects of 'Kerry' is the material selected to both challenge support change in the way of knowing from being subject to certain information and knowledge that to being able to consider it more objectively. The task of being able to distance judgement about the economy and economic development of Kerry was facilitated by various readings around of a number of key thinkers including Kegan, Drucker, Porter and Penrose. The central themes of Kerry or the potential for economic development are built into each Essay. Essay One focuses on reflections of Kerry life - on Kerry people within and without Kerry - and events as they affected understandings of how people related to and worked with one another. These reflections formed the basis for transformational goals identified which required a shift from an engineering mindset to encompass an economics-based view. In Essay Two knowledge of economic concepts is developed by exploring the writings of Drucker, Penrose, and Porter with pertinence to considering economic development generally, and for Kerry in particular in the form of an 'entrepreneurial platform'. The concepts and theories were the basis of explorations presented in Essays Three and Four. Essay Three focuses on Kerry's potential for economic development give its current economic profile and includes results from interviews with selected businesses. Essay Four is an exercise in the application of Porter's 'Cluster' concept to the equine sector.
Keywords
Economic development in Kerry
,
Irish equine sector
,
Clusters and regional development
Citation
Mangan, D.M. 2013. Explorations in a meaning making system: Kerry as an entrepreneurial platform and the equine sector as a cluster. DBA Thesis, University College Cork.