Inquiring into perspective transformation in university education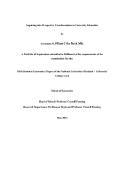 Files
Abstract
My Portfolio of Exploration tackles the difficult question as to whether adult mental development can be accelerated and if so how. Rooted in constructive-developmental ideas, adult mental development is explained as an evolutionary unfolding of human capability. Going beyond this I look at the possibility of advancing development as transformational growth in adulthood in the belief that a broader perspective leads to increased effectiveness in professional life. Initially I explored my own meaning making, to make sense of my experiences, knowledge, relationships and my own motivations. This exploration has provided me with a 'developmental bridge' between my current way of knowing and a new more enlightened way. I have come to view my way of making meaning in the world as an evolving and progressive sequence of emotional and cognitive development. Through the formation of new stretching experiences, increased self - awareness and reflection my previous perspective has been overtaken by a more complex form of being aware of myself, others and the world. I refer to this process of growth as transformation. As part of my own transformational work I have conducted an inquiry into transformational growth and learning in the early academic life of university undergraduates. The result shows how accelerated adult mental development can be achieved in an academic environment ably preparing students for the workplace. This new model of education is part of a truly unique and exciting model signalling ground-breaking change for the undergraduate experience. The overhaul of a traditional BA degree in Economics into a world-class transformational programme is discussed through-out my Portfolio. Central to my broadening awareness is the challenge and nurturing required to awaken the student's 'internal authority' . This involves stimulating students to take ownership for their own thinking, steering them away from the passivity and complacency of thinking through the minds of others. In doing so, the ultimate aim of renewing the BA is to narrow the developmental 'mismatch' which exists for m any college students between them and the world of work, by encouraging and inviting them to take on the challenge of thinking independently. Mindfulness, awareness, and personal authority are treated with reverence throughout the exploration as I consider them core parts of the students engaging with development. Engagement is construed as an active and open-minded process of awareness involving planning and reviewing one's own goals and performance, engaging in constructive feedback, reflection and new action. I conclude with a view that the journey of adult mental development is relentless and that undergraduate education represents a crucial beginning. The value and relevance of transformational education rooted in developmental principles provides a significant opportunity in advancing development and perspectives at the start of adult life.
Keywords
Transformational learning
,
Transformational growth
,
New model of education
,
University undergraduates
,
Transformational programme
,
Adult mental development
Citation
O'Kane, A. M. 2013. Inquiring into perspective transformation in university education. DBA Thesis, University College Cork.