Speech and language therapy for aphasia following stroke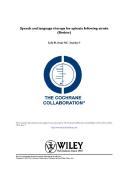 Files
Publisher
Cochrane Collaboration / John Wiley & Sons, Inc.
Abstract
Our review provides some evidence of the effectiveness of SLT (speech and language therapy) for people with aphasia following stroke in terms of improved functional communication, receptive and expressive language. However, some trials were poorly reported. The potential benefits of intensive SLT over conventional SLT were confounded by a significantly higher dropout from intensive SLT. More participants also withdrew from social support than SLT interventions. There was insufficient evidence to draw any conclusion regarding the effectiveness of any one specific SLT approach over another.
Citation
Kelly, H., Brady, M. C. and Enderby, P. (2010) 'Speech and language therapy for aphasia following stroke', Cochrane Database of Systematic Reviews, 5, CD000425. doi: 10.1002/14651858.CD000425.pub2.
Copyright
© 2010, The Cochrane Collaboration. This review is published as a Cochrane Review in the Cochrane Database of Systematic Reviews 2012, Issue 5. Cochrane Reviews are regularly updated as new evidence emerges and in response to comments and criticisms, and the Cochrane Database of Systematic Reviews should be consulted for the most recent version of the Review. THIS IS NOT THE MOST RECENT VERSION OF THIS REVIEW. CURRENT VERSION: 1 JUNE 2016 AVAILABLE AT: https://www.cochranelibrary.com/cdsr/doi/10.1002/14651858.CD000425.pub4/full