Development and assessment of new sensor systems in food packaging applications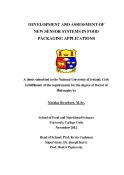 Files
Authors
Borchert, Nicolas Benjamin
Abstract
The use of optical sensor technology for non-invasive determination of key quality pack parameters improved package/product quality. This technology can be used for optimization of packaging processes, improvement of product shelf-life and maintenance of quality. In recent years, there has been a major focus on O2 and CO2 sensor development as these are key gases used in modified atmosphere packaging (MAP) of food. The first and second experimental chapters (chapter 2 and 3) describe the development of O2, pH and CO2 solid state sensors and its (potential) use for food packaging applications. A dual-analyte sensor for dissolved O2 and pH with one bi-functional reporter dye (meso-substituted Pd- or Ptporphyrin) embedded in plasticized PVC membrane was developed in chapter 2. The developed CO2 sensor in chapter 3 was comprised of a phosphorescent reporter dye Pt(II)- tetrakis(pentafluorophenyl) porphyrin (PtTFPP) and a colourimetric pH indicator α-naphtholphthalein (NP) incorporated in a plastic matrix together with a phase transfer agent tetraoctyl- or cetyltrimethylammonium hydroxide (TOA-OH or CTA-OH). The third experimental chapter, chapter 4, described the development of liquid O2 sensors for rapid microbiological determination which are important for improvement and assurance of food safety systems. This automated screening assay produced characteristic profiles with a sharp increase in fluorescence above the baseline level at a certain threshold time (TT) which can be correlated with their initial microbial load and was applied to various raw fish and horticultural samples. Chapter 5, the fourth experimental chapter, reported upon the successful application of developed O2 and CO2 sensors for quality assessment of MAP mushrooms during storage for 7 days at 4°C.
Keywords
Optical sensor systems
,
Food packaging
,
Carbon dioxide
,
Oxygen
Citation
Borchert, N.B. 2013. Development and assessment of new sensor systems in food packaging applications. PhD Thesis, University College Cork.