Exploring alternatives for milk quality improvement and more efficient dairy production in a smallholder farming context – case study: Mantaro Valley (Peru)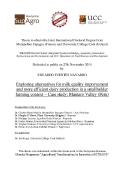 Files
Abstract
Consumer demand is revolutionizing the way products are being produced, distributed and marketed. In relation to the dairy sector in developing countries, aspects of milk quality are receiving more attention from both society and the government. However, milk quality management needs to be better addressed in dairy production systems to guarantee the access of stakeholders, mainly small-holders, into dairy markets. The present study is focused on an analysis of the interaction of the upstream part of the dairy supply chain (farmers and dairies) in the Mantaro Valley (Peruvian central Andes), in order to understand possible constraints both stakeholders face implementing milk quality controls and practices; and evaluate "ex-ante" how different strategies suggested to improve milk quality could affect farmers and processors' profits. The analysis is based on three complementary field studies conducted between 2012 and 2013. Our work has shown that the presence of a dual supply chain combining both formal and informal markets has a direct impact on dairy production at the technical and organizational levels, affecting small formal dairy processors' possibilities to implement contracts, including agreements on milk quality standards. The analysis of milk quality management from farms to dairy plants highlighted the poor hygiene in the study area, even when average values of milk composition were usually high. Some husbandry practices evaluated at farm level demonstrated cost effectiveness and a big impact on hygienic quality; however, regular application of these practices was limited, since small-scale farmers do not receive a bonus for producing hygienic milk. On the basis of these two results, we co-designed with formal small-scale dairy processors a simulation tool to show prospective scenarios, in which they could select their best product portfolio but also design milk payment systems to reward farmers' with high milk quality performances. This type of approach allowed dairy processors to realize the importance of including milk quality management in their collection and manufacturing processes, especially in a context of high competition for milk supply. We concluded that the improvement of milk quality in a smallholder farming context requires a more coordinated effort among stakeholders. Successful implementation of strategies will depend on the willingness of small-scale dairy processors to reward farmers producing high milk quality; but also on the support from the State to provide incentives to the stakeholders in the formal sector.
Les demandes des consommateurs sont en train de révolutionner la manière dont les produits sont produits, distribués et commercialisés. En ce qui concerne le secteur laitier dans les pays en développement, les composantes de la qualité du lait reçoivent plus d'attention à la fois de la société et du gouvernement. Toutefois, la gestion de cette qualité doit-être mieux prise en compte dans les systèmes de production laitière, pour garantir l'accès des acteurs, principalement les petits exploitants, aux marchés laitiers. La présente étude se concentre sur l'analyse de l'interaction de la partie amont de la filière laitière (agriculteurs et laiteries) dans la vallée du Mantaro (Andes centrales du Pérou), afin de comprendre les contraintes possibles auxquelles ces deux acteurs sont confrontés pour la mise en oeuvre des contrôles et des pratiques de qualité du lait , et d'évaluer "ex-ante" comment les différentes stratégies pour améliorer la qualité du lait pourraient affecter les revenus des agriculteurs et des transformateurs. L'analyse est basée sur trois études complémentaires menées ur le terrain entre 2012 et 2013. Notre travail a montré que la présence d'une double filière, combinant les marchés formels et informels, a un impact direct sur la production laitière aux niveaux technique et organisationnel, affectant les possibilités pour les petites laiteries formelles de mettre en place des contrats écrits impliquant des engagements sur la qualité du lait. L'analyse de la gestion de la qualité du lait, des fermes aux transformateurs laitiers, a montré sa mauvaise qualité hygiénique dans la zone d'étude, même quand les valeurs moyennes de la composition du lait sont élevées. Certaines pratiques d'élevage évaluées au niveau de l'exploitation ont démontré leur efficacité économique et leur impact sur la qualité hygiénique. Toutefois, l'application régulière de ces pratiques était limitée, puisque les petits agriculteurs ne reçoivent pas de prime pour un lait de meilleure qualité. Sur la base de ces deux résultats, nous avons co-construit avec des petits transformateurs laitiers formels un outil de simulation pour montrer des scénarios prospectifs, où ils pouvaient choisir leur meilleur produit, mais également concevoir des systèmes de paiement du lait pour récompenser les agriculteurs pour la qualité de leur lait. Ce type d'approche a permis aux transformateurs laitiers de comprendre l'importance d'inclure cette gestion de qualité dans leur processus de collecte et de fabrication, en particulier dans un contexte de forte concurrence pour l'approvisionnement en lait. Nous concluons que l'amélioration de la qualité de petits agriculteurs exige un travail plus coordonné entre les différentes parties prenantes. Une telle mise en place de stratégies dépendra de la volonté des petits transformateurs laitiers de récompenser les agriculteurs qui produisent un lait de haute qualité, mais aussi du soutien de l'Etat aux parties prenantes du secteur formel.
Keywords
Informal market
,
Supply chain management
,
Modeling
,
Husbandry practices
,
Dairy processing
,
Marché informel
,
Gestion de la chaine d'approvisionnement
,
Transformation du lait
,
Pratiques d'élevage
,
Modélisation
Citation
Fuentes Navarro, E. 2014. Exploring alternatives for milk quality improvement and more efficient dairy production in a smallholder farming context – case study: Mantaro Valley (Peru). PhD Thesis, University College Cork, Montpellier SupAgro.