Dealing with emergent design science research projects in IS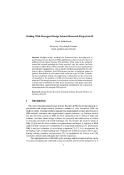 Files
Abstract
Multiple models, methods and frameworks have been proposed to guide Design Science Research (DSR) application to address relevant classes of problems in Information Systems (IS) discipline. While much of the ambiguity around the research paradigm has been removed, only the surface has been scratched on DSR efforts where researcher takes an active role in organizational and industrial engagement to solve a specific problem and generalize the solution to a class of problems. Such DSR projects can have a significant impact on practice, link theories to real contexts and extend the scope of DSR. Considering these multiform settings, the implications to theorizing nor the crucial role of researcher in the interplay of DSR and IS projects have not been properly addressed. The emergent nature of such projects needs to be further investigated to reach such contributions for both theory and practice. This paper raises multiple theoretical, organizational and managerial considerations for a meta-level monitoring model for emergent DSR projects.
Keywords
Design science research
,
Emergent settings
,
Research projects
,
Information systems
Citation
PIRKKALAINEN, H. 2015. Dealing with emergent design science research projects in IS. In: DONNELLAN, B., GLEASURE, R., HELFERT, M., KENNEALLY, J., ROTHENBERGER, M., CHIARINI TREMBLAY, M., VANDERMEER, D. & WINTER, R. (eds.) At the Vanguard of Design Science: First Impressions and Early Findings from Ongoing Research Research-in-Progress Papers and Poster Presentations from the 10th International Conference, DESRIST 2015. Dublin, Ireland, 20-22 May. pp. 61-68.
Copyright
©2015, The Author(s).