Novel all-optical on-off-keyed to alternate-mark-inversion converter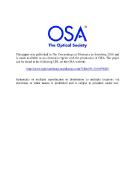 Files
Publisher
Optical Society of America
Abstract
We numerically investigate a novel 40 Gbps OOK to AMI all-optical modulation format converter employing an SOA-based Mach-Zehnder interferometer. We demonstrate operation with a 27-1 PRBS and explain the phase modulation's relationship with patterning.
Keywords
Optical devices
,
Semiconductor optical amplifiers
,
All-optical devices
Citation
DAILEY, J. M., WEBB, R. P. & MANNING, R. J. "Novel All-Optical on-off-Keyed to Alternate-Mark-Inversion Converter," in Photonics in Switching, OSA Technical Digest (CD) (Optical Society of America, 2010), paper PWB5. Photonics in Switching, 25 July 2010 Monterey, California.
Copyright
©2010 Optical Society of America. This paper was published in The Proceedings of Photonics in Switching 2010 and is made available as an electronic reprint with the permission of OSA. The paper can be found at the following URL on the OSA website: http://www.opticsinfobase.org/abstract.cfm?URI=PS-2010-PWB5 Systematic or multiple reproduction or distribution to multiple locations via electronic or other means is prohibited and is subject to penalties under law.