Access to this article is restricted until 6 months after publication by request of the publisher.. Restriction lift date: 2023-11-16
The unrealized value of global workers: The need for global talent management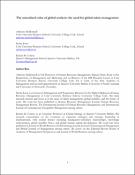 Abstract
Global workers play a critical role in multinational organisations which transcend national boundaries as part of their business routines. In this chapter, we highlight the pivotal positions that many global workers play. Specifically, we unpack the role of global workers as key boundary spanners, navigating relational, knowledge, and cultural boundaries across the organisation. The chapter also argues that the full value of global workers remains unrealised given the lack of planning and integration of these workers in terms of knowledge management processes, talent management strategies, and global mobility functions. Specifically, we point to the lack of strategic and practical oversights from corporate HR functions and how this may be impacting upon both global workers' experiences and organisational efforts to maximise value.
Keywords
Global Workers
,
Knowledge
,
Talent
,
Value
,
Expatriation
Citation
McDonnell, A., Jooss, S. and Conroy, K. M. (2023) 'The unrealized value of global workers: the need for global talent management', in Vaiman, V., Vance, C. and Ju, L. (eds.) Smart Talent Management. Cheltenham, UK: Edward Elgar Publishing, pp. 165-180. doi: 10.4337/9781802202717.00016
Copyright
© 2023, the Editors. Published by Edward Elgar Publishing. All rights reserved.