Effect of 1-deoxy-D-lactose upon the crystallization of D-lactose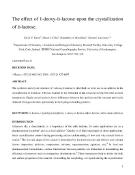 Files
Publisher
American Chemical Society
Abstract
The synthesis and crystal structure of 1-deoxy-d-lactose is described, as is its use as an additive in the crystallization of d-lactose. This has resulted in the formation of αβ-d-lactose for the first time at room temperature. Single-crystal analysis shows differences between this analysis and the structure previously obtained from powder data, particularly in the hydrogen-bonding patterns.
Keywords
Carbohydrates
,
D-lactose
,
Crystal polymorphism
,
1-deoxy-D-lactose
,
αβ-D-lactose
,
Tailor-made additives
Citation
GUIRY, K. P., COLES, S. J., MOYNIHAN, H. A. & LAWRENCE, S. E. 2008. Effect of 1-Deoxy-d-lactose upon the Crystallization of d-Lactose. Crystal Growth & Design, 8, 3927-3934.
Copyright
© 2008, American Chemical Society. This document is the Accepted Manuscript version of a Published Work that appeared in final form in Crystal Growth & Design, copyright © American Chemical Society after peer review and technical editing by the publisher. To access the final edited and published work see http://pubs.acs.org/doi/abs/10.1021/cg070598n