Aesthetic campaigns and counter-campaigns. Jorge Luis Borges and a century of the Argentine detective story (1877-1977)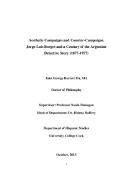 Files
Abstract
This cultural history of Argentine crime fiction involves a comprehensive analysis of the literary and critical traditions within the genre, paying particular attention to the series of 'aesthetic campaigns' waged by Jorge Luis Borges and others during the period between 1933 and 1977. The methodological approach described in the introductory chapter builds upon the critical insight that in Argentina, generic discourse has consistently been the domain, not only of literary critics in the traditional mould, but also of prominent writers of fiction and specialists from other disciplines, effectively transcending the traditional tripartite 'division of labour' between writers, critics and readers. Chapter One charts the early development of crime fiction, and contextualises the evolution of the classical and hardboiled variants that were to provide a durable conceptual framework for discourse in the Argentine context. Chapter Two examines a number of pioneering early works by Argentine authors, before analysing Borges' multi-faceted aesthetic campaign on behalf of the 'classical' detective story. Chapter Three examines a transitional period for the Argentine crime genre, book-ended by the three Vea y Lea magazine-sponsored detective story competitions that acted as a vital stimulus to innovation among Argentine writers. It includes a substantial treatment of the work of Rodolfo Walsh, documenting his transition from crime writer and anthologist to pioneer of the non-fiction novel and investigative journalism traditions. Chapter Four examines the period in which the novela negra came to achieve dominance in Argentina, in particular the aesthetic counter-campaigns conducted by Ricardo Piglia and others on behalf of the hard-boiled variant. The study concludes with a detailed analysis of Pablo Leonardo's La mala guita (1976), which is considered as a paradigmatic example of crime fiction in Argentina in this period. The final chapter presents conclusions and a summary of the dissertation, and recommendations for further research.
Keywords
Borges
,
Argentina
,
Rodolfo Walsh
,
Ricardo Piglia
,
Ernest Mandel
,
Jorge Lafforgue
,
Jorge B. Rivera
,
Amelia Simpson
,
Enrique Anderson Imbert
,
G. K. Chesterton
,
Arthur Conan Doyle
,
Raymond Chandler
,
Dashiell Hammett
,
Adolfo Pérez Zelaschi
,
Eustaquio Pellicer
,
Pablo Leonardo
,
La mala guita
,
Elena Braceras
,
Cristina Leytour
,
Susana Pittella
,
Donal A. Yates
,
Séptimo círculo
,
Argentine Literature
,
Leonardo Moledo
,
Eduardo Goligorsky
,
Eoin Barrett
,
aesthetic campaign
,
Detective fiction
,
Policial
,
Hard-boiled
,
Cuentos policiales
,
Classical
,
Golden age
,
Duro
,
Serie negra
,
Crime fiction
Citation
Barrett, E. G. 2013. Aesthetic campaigns and counter-campaigns. Jorge Luis Borges and a century of the Argentine detective story (1877-1977). PhD Thesis, University College Cork.