Interactive linkages, non-interactive linkages, and innovative activity in the offshore renewable energy sector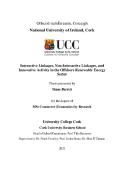 Files
Abstract
Previous firm level studies have provided evidence of a positive relationship between external knowledge linkages (interactive and non-interactive) and innovative activity. However, empirical evidence for the offshore renewable energy sector remains scarce. Using novel firm level data from a purpose-built survey, this paper examines the effect external linkages has on innovative activity. We find that more interactive linkages are positively related to more innovative activity. However, this relationship is subject to diminishing returns. In contrast, a significant relationship is absent for increased levels of non-interactive linkages and innovative activity. When the type of linkages is disaggregated to individual indicators, collaborating with suppliers, consultants, and accessing scientific journals are conducive for R&D activity and process innovation. Collaborating with customers is associated with the decision to introduce new products and processes. This paper suggests policymakers support backward linkages to suppliers and consultants by providing tax incentives for external R&D collaborations.
Keywords
Innovation
,
Sustainability
,
Renewables
,
R&D
,
Offshore energy
,
External collaboration
Citation
Barrett, S. 2021. Interactive linkages, non-interactive linkages, and innovative activity in the offshore renewable energy sector. MSc Thesis, University College Cork.