Engineering an Open Web Syndication Interchange with Discovery and Recommender Capabilities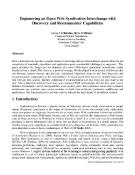 Abstract
Web syndication has become a popular means of delivering relevant information to people online but the complexity of standards, algorithms and applications pose considerable challenges to engineers. This paper describes the design and development of a novel Web-based syndication intermediary called InterSynd and a simple Web client as a proof of concept. We developed format-neutral middleware that sits between content sources and the user. Additional objectives were to add feed discovery and recommendation components to the intermediary. A search-based feed discovery module helps users find relevant feed sources. Implicit collaborative recommendations of new feeds are also made to the user. The syndication software built uses open standard XML technologies and the free open source libraries. Extensibility and re-configurability were explicit goals. The experience shows that a modular architecture can combine open source modules to build state-of-the-art syndication middleware and applications. The data produced by software metrics indicate the high degree of modularity retained.
Keywords
Web syndication
,
Open source software
,
Recommender systems
Citation
O'Riordan, A., O'Mahoney, O.; (2011) 'Engineering an Open Web Syndication Interchange with Discovery and Recommender Capabilities'. Journal of Digital Information, 12 (1).
Copyright
© 2011, the Authors.