Sulfoxides: potent co-crystal formers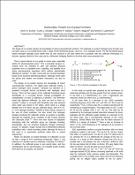 Files
Publisher
American Chemical Society
Abstract
The design of co-crystals requires knowledge of robust supramol. synthons. The sulfoxide is a potent H bond acceptor and was used as a co-crystal former with a range of NH functional groups, via N-H···O=S H bonds. The NH functional group retains favorable H bond motifs from its own structure in all cases where this is possible, with the sulfoxide interacting in a discrete, capping fashion in four cases and in a bifurcated, bridging fashion in the three other cases presented here. Crystallog. data are given for 7 co-formers, dibenzyl sulfoxide and cyclohexanecarbothioamide.
Keywords
Crystallography and liquid crystals
Citation
ECCLES, K. S., ELCOATE, C. J., STOKES, S. P., MAGUIRE, A. R. & LAWRENCE, S. E. 2010. Sulfoxides: Potent Co-Crystal Formers. Crystal Growth & Design, 10, 4243-4245.
Copyright
© 2010, American Chemical Society. This document is the Accepted Manuscript version of a Published Work that appeared in final form in Crystal Growth & Design, copyright © American Chemical Society after peer review and technical editing by the publisher. To access the final edited and published work see http://pubs.acs.org/doi/abs/10.1021/cg1010192