Production of advanced gaseous biomethane transport fuel in an integrated circular bioenergy system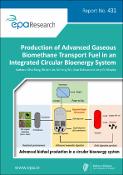 Files
Publisher
Environmental Protection Agency
Abstract
This report proposes an anaerobic digestion (AD)-centred integrated circular bioeconomy system for the production of advanced fuels (biomethane or biomethanol), medium-chain fatty acids (such as caproic acid), biofertiliser and biochar (with potential application for negative emission technology).
Keywords
Anaerobic digestion
,
Circular bioeconomy system
,
Advanced fuels
,
Biomethane
,
Biomethanol
,
Medium-chain fatty acids
,
Biofertiliser
,
Biochar
Citation
Kang, X., Lin, R., Wu, B., Dobson, A. and Murphy, J. D. (2023) Production of advanced gaseous biomethane transport fuel in an integrated circular bioenergy system. Available at: https://www.epa.ie/publications/research/circular-economy/Research_Report_431.pdf (Accessed: 4 May 2023)
Copyright
© 2023, Environmental Protection Agency.