The dark side of digitalization and social media platform governance: a citizen engagement study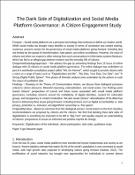 Files
Abstract
Purpose: Social media platforms are a pervasive technology that continues to define the modern world. While social media has brought many benefits to society in terms of connection and content sharing, numerous concerns remain for the governance of social media platforms going forward, including (but not limited to) the spread of misinformation, hate speech and online surveillance. However, the voice of citizens and other non-experts is often missing from such conversations in information systems literature, which has led to an alleged gap between research and the everyday life of citizens. Design/methodology/approach: The authors address this gap by presenting findings from 16 h of online dialog with 25 citizens on social media platform governance. The online dialog was undertaken as part of a worldwide consultation project called "We, the internet", which sought to provide citizens with a voice on a range of topics such as "Digitalization and Me," "My Data, Your Data, Our Data" and "A Strong Digital Public Sphere." Five phases of thematic analysis were undertaken by the authors to code the corpus of qualitative data. Findings: Drawing on the Theory of Communicative Action, the authors discuss three dialogical processes critical to citizen discourse: lifeworld reasoning, rationalization and moral action. The findings point toward citizens' perspectives of current and future issues associated with social media platform governance, including concerns around the multiplicity of digital identities, consent for vulnerable groups and transparency in content moderation. The findings also reveal citizens' rationalization of the dilemmas faced in addressing these issues going forward, including tensions such as digital accountability vs data privacy, protection vs inclusion and algorithmic censorship vs free speech. Originality/value: Based on outcomes from this dialogical process, moral actions in the form of policy recommendations are proposed by citizens and for citizens. The authors find that tackling these dark sides of digitalization is something too important to be left to "Big Tech" and equally requires an understanding of citizens' perspectives to ensure an informed and positive imprint for change.
Keywords
Digitalization of the individual
,
Citizen participation
,
Dark sides
,
Qualitative study
Citation
McCarthy, S., Rowan, W., Mahony, C. and Vergne, A. (2023) 'The dark side of digitalization and social media platform governance: a citizen engagement study', Internet Research, ahead-of-print, https://doi.org/10.1108/INTR-03-2022-0142.