Heterodimensional FET with split drain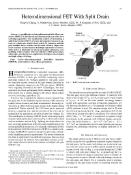 Files
Abstract
A modification to heterodimensional field effect transistors (HDFET) is introduced and demonstrated to provide novel switching capabilities. The modification consists of introducing a split drain into the HDFET structure allowing the transistor to operate as a single pole-double throw switch. By extension, multiple pole-multiple throw switches can be made within a single transistor structure by introduction of multiple split drains or sources. If the device is fabricated on silicon germanium substrates, compatibility of the structure with conventional CMOS processing is achievable, allowing for new applications in digital, mixed signal, and high voltage switching.
Keywords
Heterodimensional field-effect transistor
,
Semiconductor relay
,
Silicon germanium
,
HDFET
Citation
Chang, T., Mathewson, A., Kennedy, M.P., Greer, J.C., 2004. Heterodimensional FET with split drain. IEEE Electron Device Letters, 25(11), pp.737-739.
Copyright
©2004 IEEE. Personal use of this material is permitted. However, permission to reprint/republish this material for advertising or promotional purposes or for creating new collective works for resale or redistribution to servers or lists, or to reuse any copyrighted component of this work in other works must be obtained from the IEEE.